If you work with WordPress, you are a web developer of some kind. Whether it is your full time job or just a side gig, you may want to display your work or services. As WordPress themes become more and more specialized, portfolio themes have developed rapidly. From their beginnings as a simple blog built for displaying images… all the way to stunning sliders and interfaces, here is our first Portfolio theme for WordPress.
The homepage of the Portfolio WordPress theme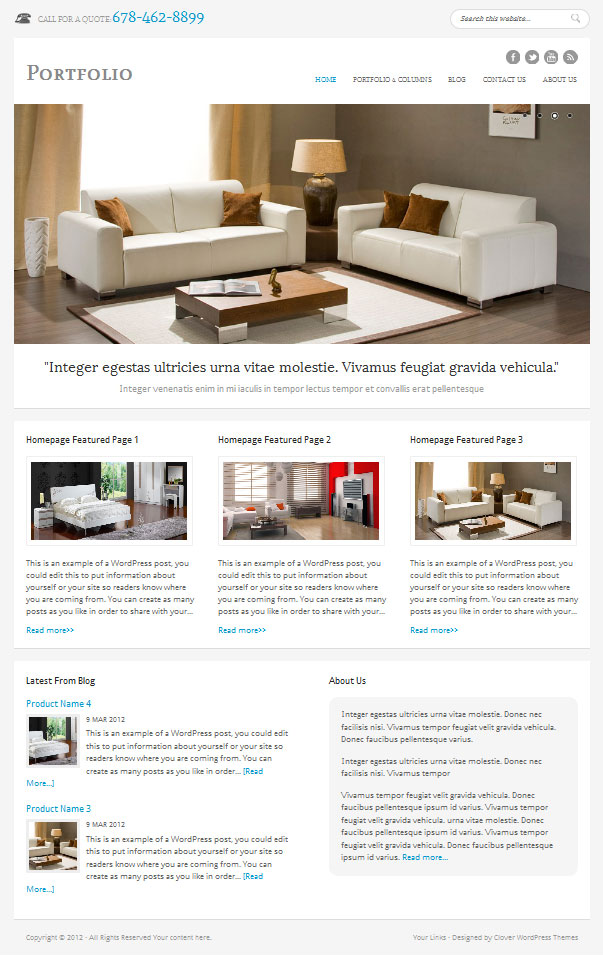 The portfolio page of the Portfolio theme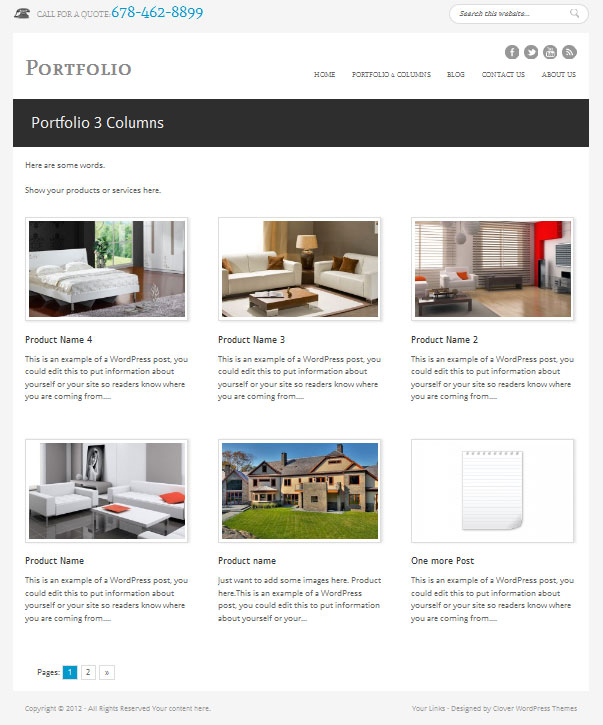 Features:
Easy to use theme options
Custom logo
Custom favicon
Cool jQuery slider
Homepage featured pages
3 different portfolio templates: 2 columns, 3 columns, 4 columns
2 blog templates
Full width page
WordPress 3.0 menu system support
Awesome auto-width, drop-down and multi-level website navigation
Automatic Image resizing on Portfolio and Blog pages.
Video Tutorials to help you setup your new website.
I am happy to announce that the PhotoPro 1.0 theme has been officially released.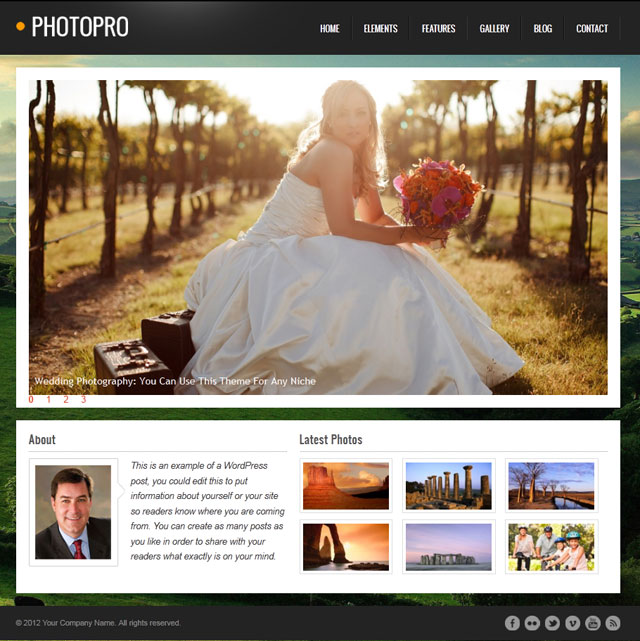 PhotoPro is the Minimalist Photography, Portfolio, Personal website Template built with latest WordPress features. There are 5 gallery templates for you to choose from: 1 column, 2 column, 3 column, 4 column, gird style.
This WordPress Photography Theme supports digital photo EXIF data, I think some photographers may want to display these info under the photo, however you can hidden this function if you don't need it.
You can use this theme create your own online gallery easily, why not show off your travel photos, or wedding photos, or your happy family images with us?
Here are more features you can find in this gallery WordPress theme.
Photography WordPress Theme: PhotoPro Features:
Theme options
Upload your own logo easily use theme options
Custom background
jQuery slider
Full width posts, full width page template (Yes, we have create the full width template for post, not only for page, that means you can post full width blog posts.)
Useful short code: background highlight, dropcap, different column etc
Support digital photo EXIF data
Different gallery styles: 2 column, 3 column, 4 column, gird style etc (1 column? Just use the full width page template.)
Widgets ready: 3 footer widget, 1 sidebar widget, 1 flickr widget, 1 twitter widget
Build in pagination, no plugins needed
Threaded comments supported
Build-in contact forms
Dynamic image resizing
jQuery drop-down menus
Lots of user control settings
Page templates
Cross-browser, valid code
Help guide (really easy to use, you can start even without any guide)